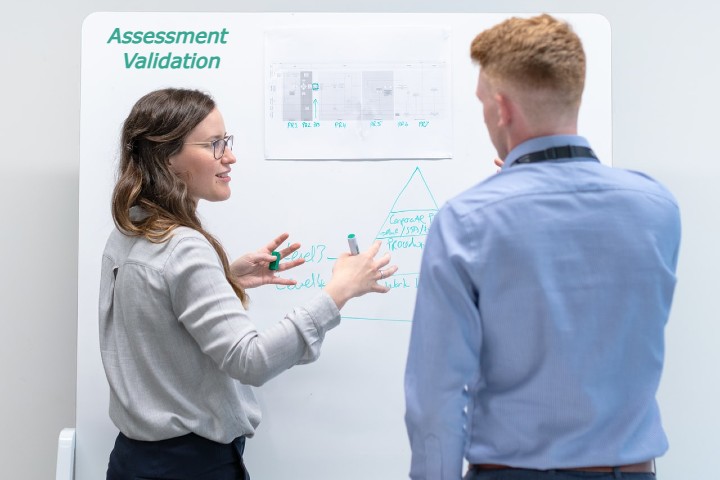 As a training provider, you must implement a robust assessment system that includes not only the actual materials  used directly in conducting assessment, but also policies, procedures and other supporting documents and tools that inform the way assessment is conducted.
Once your assessment system is in place, the next step is to ensure that your assessment system is consistently producing valid assessment judgements and that the graduates have skills and knowledge required by the industry. You must validate your assessments to ensure this.
Validation is a quality review process to check that the assessment tools adhere to the assessment principles and the rules of evidence were followed while conducting assessments. This is an ongoing process to identify the gaps in the assessment tools and to ensure that the best practices are being followed while making judgements on learners' competencies.
For Registered Training Organisations, ASQA (Australian Skills Quality Authority)  has provided clear instructions and guidelines to make sure that all RTOs follow a consistent strategy to validate their assessment tools. Validation should be conducted after the assessments, so that assessment practices and assessment judgements both be validated. Validation also includes acting upon the identified gaps in the assessment tools and practices.
RTOs are mandated to have a schedule for validating the training products. As per ASQA guidelines, each training product must be reviewed at least once in a five-year period and at least 50 percent of the products must be validated in the first three years of the schedule. Evidence of validation must be retained using a record management process.
The sample size of the assessments should be large enough to represent total assessments outcomes. As a guideline, ASQA has provided a Validation Sample Size Calculator. It requires three parameters namely number of assessment judgements, error level and confidence level. The values of error level and confidence level are pre-filled as 15% and 95% respectively. However, these values can be increased to accommodate a set of assessments with a larger range of judgements, which would automatically increase the number of assessment judgements required.
The validators must hold vocational competencies and current industry skills, current knowledge and skills in vocational teaching and TAE40116 or TAESS00001.
The validation outcome would stipulate the improvements required in the assessment tools or assessment practices. Increasing the sample size can help to identify the patterns of the issue, which can be worked on to improve the practices.
In summary, validation is very critical to reinforce that the assessment tools are current, valid, reliable and sufficient; at the same time assessment practices are fair, flexible, reliable and valid. This process brings conformance to quality of the training products and increases the confidence of industries and learners in the VET sector.
CIC Academy offers a short course that will help you develop a thorough understanding of assessment validation process and practices the VET sector.
Visit CIC Academy today.